Dr. Loretta Seraly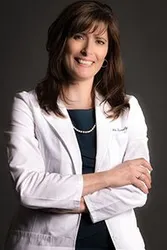 Dr. Seraly grew up in Canonsburg, Pennsylvania. She started her undergraduate education studying information systems at Carnegie-Mellon University, and was awarded the Andrew Carnegie Merit scholarship. When her interests turned towards healthcare, Dr. Seraly transferred to Washington & Jefferson College. She was accepted into the accelerated doctoral program at the Pennsylvania College of Optometry, where she received her doctorate in optometry. Dr. Seraly obtained her internship experience at the Hahnemann University Department of Ophthalmology in the Glaucoma and Retina Services.
Dr. Seraly began her Optometric career at the Will's Eye Hospital Glaucoma Service Research Laboratory, in Philadelphia. She later relocated back to western Pennsylvania where she worked with Penny Lightholder Thomas, O.D., The Eye Gallery, and Community Eye Care.
Dr. Seraly is delighted to open her private practice, and share her over twenty years of practice experience. Seraly Eye Care Associates has the most advanced technology to meet your visual needs; offering high definition spectacle lenses, as well as a broad spectrum of contacts lenses for the correction of astigmatism, nearsightedness, farsightedness and the need for bifocals Seraly Eye Care Associates offers the latest technology for the early diagnosis and treatment of ocular diseases such as macular degeneration, glaucoma, and diabetic retinopathy. Dr. Seraly also has a special interest in ocular surface diseases including dry eye syndrome and eye infections.
Dr. Seraly has been married for over 25 years to Mark Seraly, M.D. Together they have four children.
---
Dr. Willig
At The Ohio State University College of Optometry she was accepted into the dual Doctorate of Optometry and Masters of Vision Science program. She was a student fellow of the American Academy of Optometry (AAO) and presented her thesis research on ciliary muscle thickness. She also served as vice president of the Beta Sigma Kappa optometric honor society. Dr. Willig completed her externships at the Louis Stokes Cleveland VA Medical Center and Ohio Eye Alliance.
Dr. Willig practices general optometry for all ages and particularly enjoys working with children and fitting contact lenses.
In her free time, Dr. Willig likes to bake, play video games, and spend time with her husband and two children.
---
Dr. Auman
Dr. Auman is from the Western Pennsylvania area and has recently moved into the South Hills area, along with her husband, who is a South Hills native.

Dr. Auman attended Saint Vincent College and graduated Summa Cum Laude with a Bachelor of Science in Biology. After completing her first degree, she was accepted into the Pennsylvania College of Optometry Scholars program where she completed her Doctorate of Optometry degree.
While completing her studies, she served as class president and was inducted into the Beta Sigma Kappa Optometric Honor Society. She completed her externships at the Philadelphia VA, Wills Eye Hospital and The Eye Institute.
In addition to this degree, Dr. Auman completed a residency degree in low vision rehabilitation at The Eye Institute in Philadelphia. She is currently a Fellow of the American Academy of Optometry. Dr. Auman practices general optometry with a particular interest in ocular disease and ocular emergencies.
In her free time, Dr. Auman enjoys traveling, exercising, and spending time with her husband, son, and two cats.